Arkansas Historic Preservation Awards Recognize A-State Project Leaders
Arkansas Heritage Sites Director Ruth Hawkins and A-State professor emeritus Scott Darwin were among those recognized on January 9, 2015 at the annual Arkansas Preservation Awards sponsored by the Historic Preservation Alliance of Arkansas. The event recognizes the important work being done throughout Arkansas to preserve and protect places of historical or cultural importance.
Dr. Hawkins received the Parker Westbrook Award for Lifetime Achievement for her work in preservation, tourism and education. She has been integral to preservation of many of the region's and the state's most significant landmarks, including the Hemingway-Pfeiffer Museum in Piggott, the Southern Tenant Farmers Museum in Tyronza, Lakeport Plantation in Lake Village, the Dyess Colony Administration Building, and Johnny Cash Boyhood Home in Dyess. Hawkins' work has not only helped to protect these important pieces of Arkansas history, but has proven that the sites are essential part of Arkansas's economy.
Dr. Darwin, emeritus professor of German at A-State, received the Award for Outstanding Achievement in Preservation Advocacy for championing preservation of the 1936 V.C. Kays House, home of ASU founding father Victor C. Kays. Darwin gained media attention and built support for saving the house, which will be preserved for use by the Heritage Studies PhD program and will house furnishings from Governor Mike Beebe's former office.
Read details about these and other awards recognizing Arkansans' work to preserve distinctive historic places in this Events Program.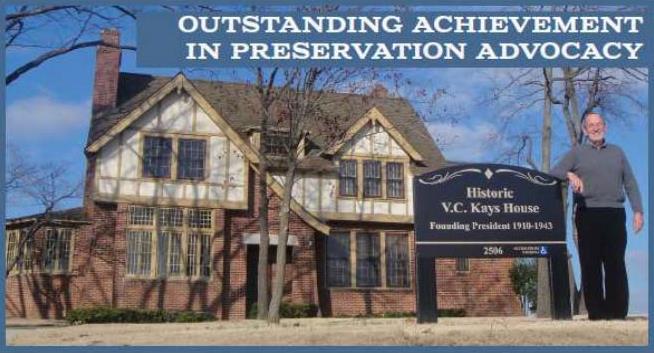 The Historic Preservation Alliance of Arkansas is the only statewide non-profit organization dedicated to preserving Arkansas's architectural and cultural heritage. For more information about the Alliance, or photos of the projects contact Vanessa at 501-372-4757, vmckuin@preservearkansas.org, or visit PreserveArkansas.org.