About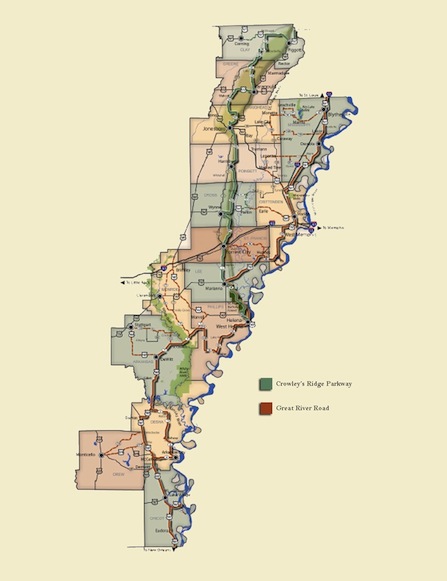 The Arkansas State University Heritage Sites Office was established July 1, 1999 as the Delta Heritage Initiatives Office. It actually began in 1997 as a university project to work with community leaders, and volunteers in an eight-county region (Clay, Craighead, Cross, Greene, Lee, Phillips, Poinsett and St. Francis counties) to establish and develop a route along Crowley's Ridge as a National Scenic Byway. The goal was to promote the natural and cultural heritage in the region, thus serving as an economic catalyst for communities and providing an educational laboratory for students at ASU and throughout the region.
Recognition of the Crowley's Ridge Parkway as a National Scenic Byway in 1998 led to developing other projects along Crowley's Ridge. In 1999, the Delta Heritage Initiatives Office became the administrative agent for Arkansas Delta Byways, the non-profit association recognized by the Arkansas Department of Parks and Tourism as the official tourism promotion association for Eastern Arkansas, and in 2001 the Delta Heritage Initiatives Office provided assistance for a second National Scenic Byway in the State–the Arkansas segment of the 10-state Great River Road. The 10-county segment through Arkansas (Mississippi, Crittenden, St. Francis, Lee, Phillips, Monroe, Arkansas, Desha, Drew, and Chicot counties) received National Scenic Byway designation in 2002.
The name of the office has been changed to Arkansas State University Heritage Sites to reflect growing requests for heritage assistance outside of the Delta region. Along with acquisition and development of university heritage sites, the office has provided preservation and heritage tourism assistance for numerous communities and projects.
Funding
In addition to seeking grants for university properties and projects, the office works with communities throughout the Arkansas Delta in obtaining grants for preservation and heritage tourism activities. Below is a listing of outside funds raised through A-State Heritage Sites for university and community heritage projects.
2020 FY
ANCRC Dyess Colony Rural Life Research Center $512,050
ANCRC Pfeiffer Farmstead Deconstruction $126,000
Sub-Total $638,050
2019 FY
ANCRC Lakeport Plantation Dairy Stabilization $125,376
Johnny Cash Heritage Festival $20,480
Chicot County-Lakeport Appropriation $26,000
Sub-Total $153,424
2018 FY
ANCRC V. C. Kays House Completion $88,000
Johnny Cash Heritage Festival $35,696
Governor's Appropriation $79,000
Sub-Total $202,696
2017 FY
ANCRC V. C. Kays Heritage Site $200,000
2016 FY
ANCRC-Dyess Theatre $486,000
Governor's Appropriation $100,000
Sub-Total $586,000
2015 FY
ANCRC-Dyess Theatre $750,000
ANCRC-Historic Kays House $200,000
Private Contributions, Johnny Cash Boyhood Home $55,000
Sub-Total $975,000
2014 FY
ANCRC-Dyess Administration Building $500,000
Johnny Cash Music Festival $35,183
Private Contributions, Johnny Cash Boyhood Home $66,950
Private Contributions, Phase Two, Dyess Project $25,725
General Improvement Funds, Dyess $140,000
General Improvement Funds, Hemingway-Pfeiffer $100,000
General Improvement Funds, Lakeport $10,000
Sub-Total $877,858
2013 FY
ANCRC-Dyess Administration Building $350,000
NEH Challenge Grant-Historic Dyess Colony $500,00
Johnny Cash Music Festival $76,370
Private Contributions, Johnny Cash Boyhood Home $5,210
Sub-Total $931,580
2012 FY
Johnny Cash Music Festival $177,394
ANCRC-Dyess Administration Building $262,000
Private Contributions, Johnny Cash Boyhood Home $53,184
Royalties, Johnny Cash Boyhood Home $6,129
Sub-Total $498,707
2011 FY
NPS-Rohwer Japanese-American Relocation Camp Interpretive Project $93,155
ANCRC-Dyess Administration Building $337,888
Sub-Total $431,043
2010 FY
NSB-Chalk Bluff Visitor Access $622,174
NSB-Crowley's Ridge Parkway Trail-Jonesboro Section $1,766,525
NPS-Rohwer Japanese-American Relocation Camp Interpretive Project $100,502
Sub-Total $2,489,201
2009 FY
NSB ADB Coordinated Marketing/Interpretive Plan $510,600
NSB Seed Grant-Great River Road $25,000
NSB Seed Grant-Crowley's Ridge Parkway $25,000
Legislative Special Appropriation-Dyess $50,000
Sub-Total $610,600
2008 FY
NSB-West Memphis Gateway Project $296,000
NSB Seed Grant- Great River Road $25,000
NSB Seed Grant – Crowley's Ridge Parkway $25,000
Sub-Total $346,000
2007 FY
ANCRC- HPMEC $75,000
ANCRC-Lakeport Plantation $1,250,000
NSB Seed Grant-Great River Road $25,000
NSB Seed Grant-Crowley's Ridge Parkway $25,000
Sub-Total $1,375,000
2006 FY
Arkansas Delta Byways $30,000
ANCRC-HPMEC $55,000
ANCRC-Lakeport $1,000,000
NSB Seed Grant-Great River Road $25,000
NSB Seed Grant-Crowley's Ridge Parkway $25,000
NSB Wynne Downtown Enhancements $200, 640
NSB Mississippi River State Park Visitor Center Design $280,800
Winthrop Rockefeller Foundation $105, 000
NEH-Lakeport $750,000
NEH-STFM $250,000
NTHP-Rural Heritage Development Initiative $360,000
Sub-Total $3,081,440
2005 FY
Arkansas Delta Byways $30,000
ANCRC-Lakeport Plantation $750,000
NSB Seed Grant-Crowley's Ridge Parkway $25,000
NSB Seed Grant-Great River Road $25,000
NSB Interpretive Grant-Great River Road $197,828
Sub-Total $1,027,828
2004 FY
ANCRC-Lakeport Plantation $1,000,000
Mildred Riley-STFM $50,000
Legislative Special Appropriation-STFM $12,500
Legislative Special Appropriation-Lakeport $50,000
NSB Seed Grant-Crowley's Ridge Parkway $24,984
NSB Seed Grant-Great River Road $25,000
Urban & Community Forestry Assistance-Lakeport and HPMEC $7,160
Sub-Total $1,169,644
2003 FY
ANCRC-Lakeport Plantation $925,000
ANCRC-STFM Tyronza $315,000
Arkansas Delta Byways $15,000
Save America's Treasures-Lakeport $320,000
NSB Crowley's Ridge Nature Center-Jonesboro $900,000
NSB Seed Grant-Crowley's Ridge Parkway $25,000
Sub-Total $2,500,000
2002 FY
Arkansas Delta Byways $30,000
ANCRC-Southern Tenant Farmers Museum-Tyronza $300,000
Legislative Special Appropriation-STFM $76,156
NSB Chalk Bluff Battlesite Improvements $352,588
NSB Paragould Historic Downtown Improvements $225,141
Sub-Total $983,885
2001 FY
Arkansas Delta Byways $30,000
Legislative Special Appropriation-HPMEC $375,000
NSB Caraway Study-Jonesboro Overpass $600,000
NSB St. Francis County Museum Enhancements $157,136
Sub-Total $1,162,136
2000 FY
Arkansas Delta Byways $30,000
ANCRC-HPMEC $280,000
Legislative Special Appropriation-HPMEC $375,000
National Scenic Byways (NSB)-HPMEC $620,148
NSB Promotion Grant-Crowley's Ridge Parkway $324,600
NSB Hiking-Biking Trail $24,576
NSB African-American Heritage $67,200
Sub-Total $1,721,524
Through 1999 FY
Arkansas National and Cultural Resources Council (ANCRC) Delta Studies Processing Area $250,000
Governor's Special Appropriation,Delta Studies $1,500,000
ANCRC-Hemingway-Pfeiffer Museum & Educational Center (HPMEC) $217,600
Legislative Special Appropriation-HPMEC $135,000
Sherland and Barbara Hamilton-HPMEC $200,000
ANCRC-HPMEC $148,000
Piggott Community-HPMEC $100,000
National Trust for Historic Preservation-HPMEC $1,950
Sub-Total $2,552,550